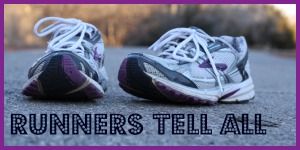 "Runners Tell All" is a monthly link-up for runners of all ages, skill levels and experience hosted by
Sunshine to the Square Inch
and
The Lady Okie
. Each month will feature a different topic. This month, we're talking about our day-to-day running routines - do you like to train socially or solo? Mornings or evenings? and other training tips, so grab a button and link-up with us!
---
Helloooo! YAY! I am coming out of blogland hibernation just in time to participate in this month's tell-all! My much-anticipated (by me *LOL*) comeback is brought to you by my course final that is scheduled for tomorrow #procrastinationatitsfinest people!
But besides that, I'm glad that I'm able to take part this month as I love this topic - especially since I actually
have
something to talk about because I'm
still
running! All thanks to my running routine secret weapon: I have a running coach!
Kyle Kranz | Professional Runner | Coach | Social Media Director: Skora Running
Disclosure: Running skills and coaching style is equal to the epicness of the beard
He's almost kind of got me wishing I could grow a beard so I could be an awesome runner too. Almost.
There is no better way to establish an actual running routine than to have someone putting in the time and effort to design your personal running schedule. I was a big fan of "training" using apps and general plans, but besides the Couch to 5K, I've never actually ever finished a plan. A lot of it had to do with accountability. Most of the plans just follow a set schedule and tells me what it is. It doesn't care if I don't actually do it or put it off or move it or modify it. It doesn't motivate me actually lace up and run on days when I have ZERO motivation (which seems to occur on a lot of days, unfortunately!) Those training plans also don't care what I did the day before or how I felt during the run. It doesn't take into consideration anything else going on with me and uses that to evaluate and adjust my schedule. It also doesn't really care if or take the necessary precautions to make sure I avoid injury. So, long run-on sentences = a running coach does the things that a computer generated training app does not.
Knowing that my coach puts time and consideration into my schedule means that I really have someone to answer to besides myself. I used to be able to justify missed runs on any level, but even thinking about what I would say to Kyle to excuse why I can't run or missed a run actually makes me sweat and also makes me feel like a liar because for the most part, when I start thinking of what I'm going to say to him, the excuses I want to tell him sound pretty weak. Feeling like I need to measure up to a runner worthy of even having a coach is a good motivator to just go run.
Getting feedback is an awesome reward for getting out to run (ESPECIALLY when I didn't want to go in the first place) and motivation to keep going out the next day...and the next and the next. What can I say, I'm a total gold star kind of person! It also helps to know that there's someone who is really interested, invested and with me on my journey to my first half marathon at Disney in February! Oooh, I think that would count as another tip to help keep the routine alive and going! Sign up for some races! Nothing keeps you motivated and focused on your training like knowing you've paid money (in terms of Disney - BIG MONEY) to show up and race (and get a shiny medal!)
In terms of the training itself, the beauty of having a coach is that it gets adjusted based on what's going on with me in real time. Even though the runs and training is scheduled and what I need to do is laid out for me so I don't have to think about it or play it by ear (or worse, take it easy). Prior to getting a coach, I used to just run several 5Ks a week and just kind of hope that my last run was faster than the one before. I wasn't doing anything different and as the saying goes, you can't expect anything to change if you keep doing the same thing over and over again. I was hoping for faster 5K times while running the same distance and basically running approximately the same pace day in and day out. No speed-work - heck, I didn't even know what speed-work was! Before I was a runner, my goal was just to be able to run 5K. As a newbie, running felt hard but once I achieved my goal, that was it for me challenging myself. I only wanted to run 5Ks and I wanted them to feel easier each time. But I found out that that's not how you improve.
When I first started running, I started with a running buddy. As we were starting out, we would both keep saying that there was no WAY we could run if we were doing it on our own and for a long time that was true. Now that I have more motivation and feel more comfortable with running in general, I find that I can usually find it within myself to go on my own for farther distances than I had thought I ever could. I think it's a good thing to change it up every now and again - the distance, the way you run and who you run with to avoid boredom, stagnation or just to keep things interesting.
I was always a lunch time runner when I was at work but with a baby, it's all pretty much up in the air since the boss gets to decide when I can go *LOL* I do find that it's easier to just get out and go if I get myself together early enough, but of course that's not always possible and it just requires way more effort in the evening when everything else has piled up and it just feels easier to just go to bed and call it a day. However, if I wasn't so afraid of the dark, if safety wasn't an issue or if I had a daily running buddy, I'm finding that I'm really enjoying night runs. I think it goes back to the whole "changing" things up tip. I don't get to do it often, so it feels new and fresh and fun when I do get to go out.
So that's that for my routine and tips: if you're having a hard time getting into a routine, consider getting a coach to help out, sign up for some races, toss in a couple obstacle races too, and change things up every once in a while! Try new things - do speedwork, throw in a fartlek, run with a group, run alone, run at night, run in the rain!