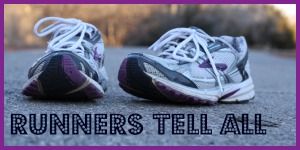 "Runners Tell All" is a monthly link-up for runners of all ages, skill levels and experience hosted by
Sunshine to the Square Inch
and
The Lady Okie
. Each month will feature a different topic. This month, we're talking about our favourite running gear, so grab a button and link-up with us! As it's meant to promote building up a community and meeting new people/blogs, one of the rules is to visit the blog of the person who posted immediately before you and I love reading and finding new blogs so I usually just go through the entire list - I'm a little bit scared for this one though because I have a feeling I'm going to want some of the things that people will be talking about! *LOL* Gonna go get Bart to hide my wallet first...
I can't believe it's already 'tell all' time, I feel like I just participated in the
last one
! I was definitely looking forward to this month because if you know me at all, you'll know that I
love
me some running gear!
Since February of 2013, I NEVER run without these shoes on my feet. Prior to February 2013 I didn't run. So hopefully that illustrates how important these shoes are to me and my running...and pretty much almost every day of my life *LOL*
Designed with a minimalist approach to provide as little interference as possible while maintaining 'ground-feel'. With the asymmetrical lacing and no-tongue design, these shoes practically wrap themselves around you like a desperate soon-to-be ex might when they feel the end is near. Also offers a wider toe box so that your feet can do what they're supposed to do without the squeezing or pinching. With the added bonus of awesome colorways and high reflectivity, these shoes are just downright, capital SMEXY. I cross-train in them, did 10k while preggo in them, ran outside in them, ran on the track in them and chilled out like a mother loving villain in them. #RUNREAL
I know there's a lot of you out there who love running for the joy of it and the lovely feeling you just get from it, but for me, if it doesn't have any data attached to it then why do it? When I run, I want to know how far I went, how fast and how much effort I put in. It helps me evaluate what I just did and to make future goals. If my time was slower than the last run, I'd think about why that was. What were the factors that contributed to that? Did the same distance feel harder? Easier? Why? What route did I take? The added bonus of the SportWatch is that it also comes with the Nike+ foot pod so that you can start your run ASAP and not have to stand around waiting for the GPS satellite stars to align and whatnot. If I were only ever allowed to have one electronic gadget for fitness this would be it. Plus, it tells the time and asks encouraging questions!
Remember what Walkman's used to look like? These have come a long way since then, I'd say! I don't usually listen to a lot of music when I run. When running outdoors, I don't want any music playing so I'll be aware if anybody tries to sneak up on me. Yes. I'm THAT paranoid. I also like to concentrate when I run. I try to think about my form, my cadence, my breathing, etc. and how that affects my running. I do shoulder and fist checks to relax and I forget those things when music is going. Paranoid AND Type A. #Awesome Aaaanyway! During the very rare time I listen to music when I run, these are pretty awesome in that there are no cords or wires to get in my way or have my arms get tangled in. It comes with a bunch of ear buds so you can get one that REALLY fits your ear and there's no problems with them falling out. The attachment at the back is also adjustable so it makes for a really comfortable fit. What I REALLY like about this is that it's a drag and drop MP3 player. You put the music that you want on there - no need to fiddle around with playlists and there's no need to mess around with trying to connect to your music source via bluetooth when it's time to run. You just turn it on, hit play and GO. The controls are on the side of the earbud so you can still skip to the next song or turn up the volume. What makes this even BETTER is that it's waterproof. Not just so you can listen to it in the rain. But so you can listen to music while you SWIM. I was a big swimmer when I first got into working out and fitness and so this is kind of a big deal to me!
These are just the specific brands that I'm currently using but in general when I'm talking about running gear, I mean a pre-workout energizer and a hydration/electrolyte drink. Before trying out Advocare's Spark and Rehydrate, I was using Vega's pre-workout energizer and Gu Brew hydration tablets. I liked them both okay and they got the job done, but I have to say that I am LOVING these two Advocare products and I can now understand why the runner's in the communities I lurk around are always raving about them. They actually taste good and I was up for a LONG time my first time trying Spark - but without any hyped up, jittery feelings. I just felt like it was early in the day and that I could keep on keepin' on. I started drinking hydration tablets and being interested in electrolytes when I was running while pregnant as I had read a lot about how it prevents muscle cramping, etc. and I've definitely noticed that it's helped a lot. Every once in a while, I'll add a hydration tablet (pre-Advocare) or a scoop of Rehydrate to my regular water just to jazz things up and for that extra little boost. I'm currently only drinking Spark SPAAAAAARINGLY as I'm nursing and it's only recommended occasionally, ie. one a day. As an added 'if it helps' I also need to mix both my Spark and Rehydrate with DOUBLE (or even more) water than the 8 oz it calls for otherwise it's too sweet.
Can't drink my Spark/Rehydrate mix without putting it in something! I originally bought this belt almost a year ago when I finally decided it was time to start running more than 5K. I opted for the belt as I seriously hate running with anything in my hands. After I bought it, I let it sit around for a while and then before I could start using it, I found out I was pregnant. This belt came in really handy as I found that I needed to drink water even during my 5K runs while preggo. I wear mine with just the two bottles at my back and after a few minutes I forget they're even there until I need a drink. The bottles are easy to get to and easy to snap back in without too much fiddling or having to stop or slow down. Not to mention that I feel like a LEGIT runner while wearing this. I can totally feel like people would see me running and could totally believe that I ran for waaay longer than 5K.
I pretty much carry everything but the kitchen sink when I go for a run outdoors. Like I mentioned, I'm super paranoid, so there's no way I'd ever go for a run without my phone, photo ID, my debit card and some cash. I usually also have my house keys or car keys so I also need a place to put that and having the Spibelt gives me a place to put it without actually looking like I'm wearing a huge fanny pack. I put everything in, turn it around so it sits on the small of my back and after a while, I forget it's there. I'm such a gear freak, I have been known to wear the Spibelt and the hydration belt both at once. *wince* Whatevs, I will be the runner that is prepared for any situation that arises! If I was ever less paranoid and wussy and ran outside, I'd probably put a flashlight and a whistle in there too! *LOL*
So that's my list! More than just a few of my favourite things, these are actually my essentials. I tried to pose the question of "if I had to pick ONE thing to go running with what would I take" to myself in an effort to pare down the list, but I really couldn't. If I was really pushed, I MIGHT be able to do away with the headphones, but I need everything else!
That's it from me! I'm sure I made this post a lot longer and with more things than Amanda and Beka intended, but that's me. Always long-winded and excessive!
Q: What's your favourite running and/or workout gear? Tell me about it or grab a link-up button and join in!
DISCLAIMER: This post contains affiliate links (for more information, please check the AFFILIATES page). All products included were purchased by myself for personal use. All opinions are my own.
jj"Runner's Tell All" is a monthly linkup for runners of all ages, skill levels, and experience hosted by
Sunshine to the Square Inch
and The Lady Okie - See more at: http://www.theladyokieblog.com/#sthash.vo5qIWB9.dpuf