Happy Monday, friends! (Is there such a thing!?)
During The Little Miss' morning nap, I usually sit down with my glass of iced coffee and settle in to read the blogs on my "Blogs I Love" list. Today, I was
stalking
visiting my new running BFF's blog
EVELINRUNS
and saw that she posted her running story by participating in a link-up hosted by Amanda from
The Lady Okie
and Beka from
Sunshine to the Square Inch
.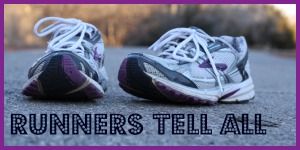 Every month, they cover different subjects for "runners to tell all" and this month, the subject is telling your running story - but in 250 words or less! For anyone that's read any post from this blog, you would know that that is a CHALLENGE for me so I thought I would give it a shot and participate in my FIRST link-up!
Here we gooo!

After week three!
June 2010
A co-worker and I had recently started walking over our lunch breaks as a way to get out of the office and to stop us from spending money (since we used to go to the mall a lot!)
On one of our walks, I happened to mention to her that I had heard about the Couch to 5K program that helps any person run 5K in a certain number of weeks. Without thinking about it, I rashly announced that we should do it – not really thinking that Tara would actually take me seriously!
A week later, I'm wearing old running shoes I found in the back of my shoe closet and I'm not just struggling through the 60 second intervals. I had to stop. Unacceptable!
Finished Couch to 5K! Yes, I totally made completion certificates
August 2010
I would have quit except that we found a way to keep us motivated. Running gear. I was convinced that it was my shoes that was holding me back, so I got new ones. Then I was convinced that I would die so I got a heart rate monitor to keep track. We figured we'd feel more like runners if we looked more like runners so to the Nike store for running outfits! On and on!
Expensive but it kept me going and day by day I went further and (slightly) faster! Next thing I knew, we were hitting 5K's and then slowly tackling 10K's! Now, we've got our sights set on the Disney Princess Half-Marathon in 2015! I'm on the road to Disney!
After we finished running the 5K and the 2K at the Niagara Falls International Marathon
We both even placed (and medaled!) 3rd in our age groups!
October 2013
BWAHAHAHA! 249 words! I did it! Yay me! *fist bump*
CONFESSION: It was really hard to keep the story under 250 words and it's slowly killing me that I can't share all the little stories and other details that happened in my journey to running, so if you want to read all the gory details or if you have insomnia and can't sleep, or if you have a big term paper due and doing anything else in the whole world sounds more fun than writing the paper, you can check my C25K series
HERE
.
Tell me your story, grab a button and link-up over
HERE
. If you've arrived here from the link-up, thanks so much for visiting! I hope you have a nice time and feel free to leave me a comment or two and I hope that you decide to come back! I am actually loving the link-up and visiting everyone's blogs and hoping to add more to my "Blogs I Love" list!
Next month's topic for March 21st is: favourite running gear/product! I am SO IN!