I don't know why I insist on using titles that are lyrics from songs - I always get irritated when the song gets in my head!
There, did that do it for you, too? A little BEP before bed? :P
So my first official full day of being thirty! It was...meh, same as any other busy day at the office, I guess! Unfortunately, I didn't wake up this morning with a fount of wisdom that I didn't have on Monday at 11:59 pm. I didn't feel older or necessarily wise by any means, but I'm glad to say that I'm
skinnier
stronger!
As you can see, I had originally put skinnier in there until after I had typed it, I realized that when I really stop and think about it, this whole journey into a new lifestyle so far has completely evolved from just about being skinny. To be honest, of course it was at first - no matter what anyone says, while they're busy spouting off reasons like "being healthier, happier, having more energy" blah blah blah, what it all really comes down to is that most people go on a diet or a health kick to look better - because they don't like what they see in the mirror. I guess I shouldn't generalize, so to be more specific, I'm talking about me personally.
CONFESSION: I think this is what first got me in trouble with that fitness assessment person at the gym. When she asked me what brought about my decision to go join, I didn't have all these inspirational hopes and dreams that included discovering a whole new me while spending time at her gym. I didn't want to lie and I can't really stand that kind of stuff coming out of my mouth since at the time, I didn't really have a good reason. I saw pictures of the gym that looked like a fancy hotel and I wanted to join it so I could go a few times and then never go back but somehow still get skinny in the process. In hindsight, I'm wondering if she didn't just think I wasn't taking all of this seriously. It was hard to just jam pack it all in a nutshell...it was just so many little things that have happened over the course of
years
all rolled into one so that one day, with no particular reason at all, I found myself waving a void cheque around and begging them to take my money. Maybe I should have gone with the "I realized my butt was dangerously close to no longer fitting on the toilet seat" reason. Because it sure was one of them. Or how about "I was tired of having to lift up flaps of skin in order to wash body parts?" or "When I smile, my cheeks push my eyes closed?" Because that happened, too! It just seemed a bit much for someone that I had just met - who also looked like she'd never spent one iota of her life ever having to fathom reasons such as those, let alone live them. Ah, snap judgements all around, I guess...
But here we are THREE days from it being exactly four months ago to the day when I walked out of her office and vowed that I could do everything she said I couldn't do without a personal trainer. She told me it would take me at least a year or intense personal training sessions for me to get to my "goal" weight (which incidentally, she told me was still too high for my height *LOL*) and here we are 4 months in and I'm halfway there. Although, I guess I shouldn't really brag about it - I have this intense fear that the last four months have just been lulling me into a false sense of security and it will actually take me another 8 months to lose the remaining half. So maybe pretend I didn't just smugly mention those last parts.
Where is all this walk down fitness lane coming from? Yesterday I mentioned that I finally finished the Insanity program. Although I didn't follow it EXACTLY (it took me way longer than 60 days since I didn't do it every day like it suggested I do) because I had gym classes and Frisbee games in between days, I still worked my way through the schedule exactly as it was laid out and one by one, I crossed off those workout days. Finishing felt pretty good. I could feel the difference in my body and I could tell I was improving, but from a girl who is motivated by check-marking boxes, I'm all about quantitative measurements. It didn't feel real until today when I did the fitness test which is meant to be done at Day 63 for the last workout of the program, but I did turned it into a two-fer so it could also double as my Insanity Cycle 2: Day 1.
You know the thing about math? It's the same in any language (yes, you can totally call me out that that was from Mean Girls) but it's still true. Numbers don't lie.
As for me? I am loving these numbers: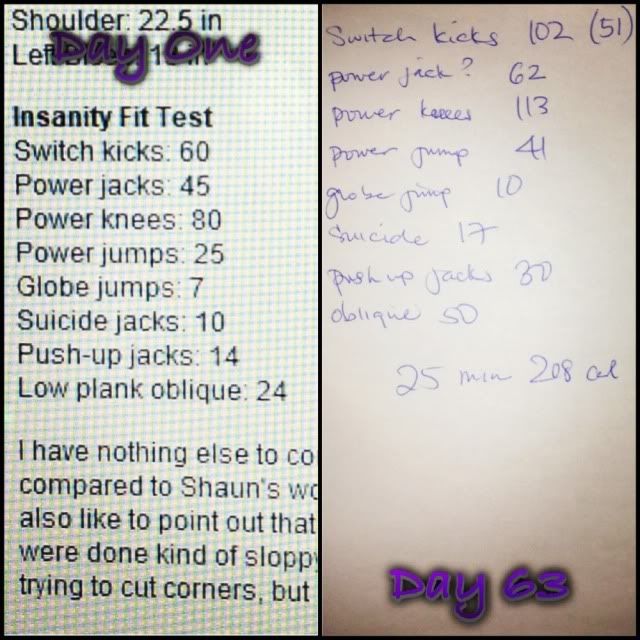 I usually get my measurements done by my co-worker at work every Wednesday, but we didn't get a chance to do them today because it was so busy, but here's measurements from last week compared to my first fitness test on October 14th:
Starting Stats / Finishing Stats
Weight: 199.2 lbs / 166 lbs
Waist: 43 in / 38.25 in (-4.75)
Hips: 43 in / 41.25 in (-1.75)
Bust: 46 in / 42 in (-4)
Left Thigh: 25 in / 23.25 in (-1.75)
Neck: 15 in / 13.75 in (-1.25)
Shoulder: 22.5 in / 21 in (-1.5)
Left Bicep: 13 in / 12 in (-1)
Overall in those areas, I've lost 33.2 lbs and 16 inches.
Well, it's not my
faaaavourite
before and after picture, but it's the only before and after picture that I've got so I'll take it! Gotta start somewhere, right? So instead of calling this before and after, I'm going to call it my before and during - because I'm not done yet!
Today was also the kick-off for the 10-week weight-loss challenge at work, so I'm kind of excited for that too.
There's a lot of competitive people at work, so the trash talking has already started *LOL* It's all in good fun and in reality, I'm hoping that it helps a lot of people out. And then in deeper reality, I'm hoping that I win. I'm trying not to get
too
caught up in it and the competition and the pot and lose sight of what it's really about. I just want to look at it as an added little push for me, but in reality, I want to keep reminding myself that I was already
doing
this before the challenge began and I was going to
continue
doing this before I knew the challenge even existed, so basically I'm just going to keep on keeping on. Whatever happens after the ten weeks are up, if I keep trying to better myself and push myself the way that I've been doing for the last four months, I will be proud no matter what!
That's it from me today! Thanks so stopping by, hope to get some blogging time in tomorrow!